Aerozone logistics park 2010
location
The 6.2 ha site is located on the outskirts of the town of Vecsés, in a commercial/industrial district in the vicinity of Ferihegy Airport. It can be accessed from a main road, Széchenyi út, and is bordered along its length by two private roads, and separated from a residential area by a wooded green belt.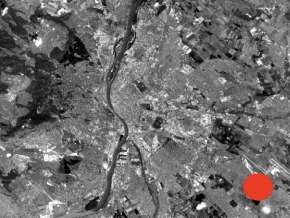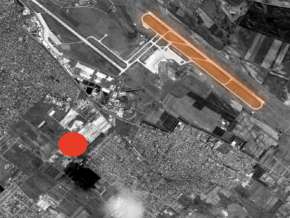 project
The aim of the project is to construct a high quality logistical centre, composing several independent warehouse units for rent and their accompanying logistical infrastructure. Each fire compartment unit (up to 3200 m2) is designed to be divided into two or more parts according to the requirements of the tenants. The smallest independently functioning unit available would have an area of 800 m2, equipped with its own toilets and office area.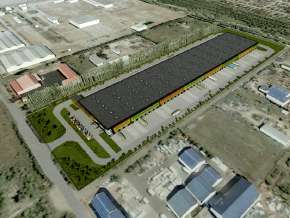 layout
The site is connected to a main road, Széchenyi út, on its north-west edge. The single block building is situated in the centre of the site, and is circled by a one-way, hard topped road leading from the main entrance. Along the length of the building the road widens at each loading entrance to form docking bays to accommodate heavy goods vehicles, with adjoining car parking spaces.
The majority of the facilities serving the building as a whole (reception, bank, snack bar, driver's rest area, service office) are housed in the main block facing the entrance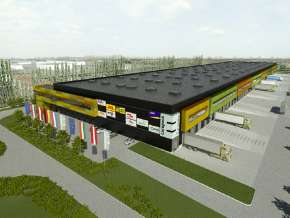 building
The main hall has an area of 24 000 m2 and is composed of 7 warehouse units of 3200m2, each of which can further be divided in four, as well as an organically integrated main block. Apart from the warehouse are each unit also has its own toilets, service areas and a mezzanine office area above the loading area, with an area of 15% of the ground surface area. Each unit is equipped with 3 loading bays constructed to the specifications of the current tenant.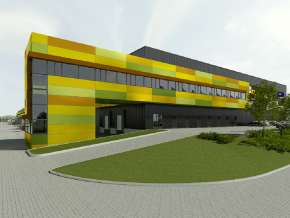 ground floor
Large span (14×17.45 m) ground floor warehouse halls, 10 m in height, constructed of prefrabricated concrete elements. A docking and loading area is located along the two lengths of the hall, having a clear height of 4.5 m, above which is located the mezzanine office space.
The warehouse building is divided into 28 warehouse units each with a floor space of 780 m2 gross (2 unit 900 m2) – that is the leasable area of each unit. One stairwell serves every two warehouse units, connecting the warehouse floor and the mezzanine office area. Service areas are located next to the stairwells – toilets and heated lounge.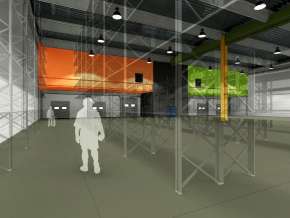 main block
This area comprises a separate fire compartment, and houses the following facilities: drivers' rest area, reception area, building supervisors, operations office, banking facilities, snack bar and canteen area, office.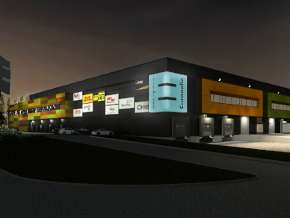 mezzanine level
A mezzanine above the loading area houses offices and supporting infrastructure (kitchenette, utility area and corridor). The mezzanine level offices together with the warehouse area comprise one fire compartment.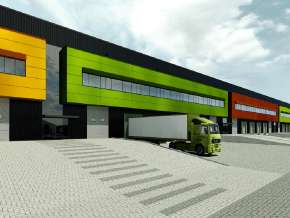 architects:
Csaba Sárközi
Lívia Haraszti
Ádám Tubákos
co-designers:
…
partners:
Ferenc Mészáros
Szabolcs Császár